Grading of World Paper Money

Grading a banknote is just as difficult as for grading a coin. Here are several considerations to be taken, and it is very important that you know most of these before making you grading. It is not enough just to say "the note looks nice an have never been in use".
 

 

UNC

AU

EF

VF

F

VG

G

Fair

Poor

Uncirculated

About Uncirculated

Extremely Fine

Very Fine

Fine

Very Good

Good

Fair

Poor

Edges

no counting marks

light counting folds OR...

light counting folds

corners are not fully rounded

much handling on edges

rounded edges

Folds

no folds

...OR one light fold through center

max. three light folds or one strong crease

several horizontal and vertical folds

many folds and creases

Paper

color

paper is clean with bright colors

paper may have minimal dirt or some color smudging, but still crisp

paper is not excessively dirty, but may have some softness

paper may be dirty, discolored or stained

very dirty, discolored and with some writing

very dirty, discolorated, with writing and some obscured portions

very dirty, discolored, with writing and obscured portions

Tears

no tears

no tears into the border

minor tears in the border, but out of design

tears into the design

Holes

no holes

no center hole, but staple hole usual

center hole and staple hole

Integrity

no pieces missing

no large pieces missing

piece missing

piece missing or tape holding pieces together
Standard International Grading Terminology & Abbreviations
| | | | | | | | |
| --- | --- | --- | --- | --- | --- | --- | --- |
| Country / Grade | Uncirculated | Extremely Fine | Very Fine | Fine | Very Good | Good | Poor |
| USA & English | UNC | EF or XF | VF | F | VG | G | PR |
| Brazil | (1) FE | (3) S | (5) MBC | (7) BC | (8) | (9) R | UTGeG |
| China | - | - | - | - | - | - | - |
| Czechia | - | - | - | - | - | - | - |
| Denmark | 0 | 01 | 1+ | 1 | 1- | 2 | 3 |
| Finland | 0 | 01 | 1+ | 1 | 1- | 2 | 3 |
| France | NEUF | SUP | TTB | TB | B | TBC | BC |
| Germany | I (BFR) | II (VZGL) | III (SS) | IV (S) | V (SG) | VI (G) | VII (GS) |
| Italy | FdS | SPL | BB | MB | B | M | - |
| Japan | Mishiyo | Goku Bihin | Bihin | Futsuhin | n/a | n/a | n/a |
| Lithuania | (0) NP | (1) YP | (2) LP | (3) P | (4) LG | (5) G | (6) M |
| Netherlands | FDC / UNC | PR | ZF | F | ZG | G | - |
| Norway | 0 | 01 | 1+ | 1 | 1- | 2 | 3 |
| Poland | - | - | - | - | - | - | - |
| Portugal | Novo | Soberbo | Muito Bo | - | - | - | - |
| Romania | NC | - | FF | F | FBC | BC | M |
| Russia | - | - | - | - | - | - | - |
| Spain - España | Lujo | SC, IC or EBC | MBC | BC | - | RC | MC |
| Sweden | 0 | 01 | 1+ | 1 | 1- | 2 | - |
Banknotes Grading
As I have tried to indicate in this introduction, there are many considerations to be taken when grading and describing a banknote. We are doing our outmost to follow the international standard given by IBNS (International Bank Note Society) and are using these descriptions and abbreviations in our shop. The Norwegian (or Scandinavian) descriptions are in brackets.

UNC (U) = UNCIRCULATED

A perfect note, not mistreated by the issuer, a bank teller or a collector. The paper is clean and firm, without any decolonization. The corners are sharp without any sign of rounding. An uncirculated note will have its original luster.

AU = ABOUT UNCIRCULATED

A virtual perfect note, with some few sign of minor handling. May show sign of counting marks or a light fold through centre, but not both. An AU banknote can not be creased or hard folded as this will normally have 'broken' the surface of a banknote. The corners are not rounded. The paper is clean and with original luster.

EF (XF) = EXTREMELY FINE

A very nice banknote, with light marks of handling. May have a maximum of three light folds or one heavy crease. The corners might have slight sign of rounding. The paper is clean and with original luster.

VF = VERY FINE

En attractive banknote, but showing sign of handling and wear. Might have a number of folds both vertically and horizontally. The paper might show minimal dirt or spots. The paper is still firm and crisp. No tears although the edges do show slight wear. The corners do show wear, but not fully rounded.
 
F = FINE

A banknote which shows considerable circulation, with many folds, creases and wrinkling. The paper is not firm any longer, without being directly dirty. Minor tears in the border, but not into the design. No hole in centre due to folding is accepted. A pin hole or two can be accepted. The colours are still clear, but not bright. The general impression is still a nice banknote.

VG = VERY GOOD

The description 'Very Good' might be a bit confusing as this is a well used note, but still intact. The corners might be well rounded, small nicks and tears can extend into the design. Some discoloration might be present and stains might be present. A small hole in centre due to heavy folding can be accepted. Pin holes or staple holes are normal. The note itself is quite soft, but no part shall be missing. A note in VG is still a note with an overall not 'unattractive' appearance.

G = GOOD

Here the description 'Good' will for many collectors be confusing, as this is a well worn and heavily used note. Normal wear due to long time in circulation has caused lot of folds, stains, pinholes/staple holes, dirt, discoloration, tears, centre hole, graffiti and rounded corners which make the note overall unattractive. No larger pieces can be missing.

FR = FAIR

A totally limp, dirty and well used note. Larger pieces can be missing or half torn off in addition to all the defects mentioned under the Good description. Tears can be larger and dirty spots bigger. A note like this is only collected as a 'filler' or if this is the absolute best condition you will find.

PR = POOR

A 'rag' with several important damages due to extensive use and wear. As described earlier but with bigger spots, bigger tears and more graffiti. A note like this can also be taped to keep the pieces together. As for a Fair note a note like this is only collected as a 'filler' or if this is the absolute best condition you will find.

Coins Grading

As a general rule, the condition of a coin depends on how and for how long it has been used. Long-term use means more wear and, as a result, lower collecting value and, therefore, lower commercial value. Consequently, a globally acceptable grading scale has been established and it is as follows:





Uncirculated (UNC):

The coin shows no signs of wear even when examined under a strong magnifying glass. It may however feature imperceptible bag marks as a result of contact with other coins at the mint. A single flaw, such as a scratch or an edge ding, does not downgrade the coin from Uncirculated, as long as it is explicitly stated in the description: e.g. Uncirculated with a small scratch next to the portrait's chin. An absolutely flawless uncirculated coin which has maintained a perceptibly fresh feel from the mint is described as Choice Uncirculated or Mint State or Fleur de Coin. A coin featuring hardly evident signs of wear on the high parts of the relief is usually called Almost Uncirculated.





Extremely Fine (EF):

Very few signs of wear and no edge dings. 95-90% of the minor details are still visible, e.g. leaves' nerves in the wraiths pearls (tiny features) on the crown, hairs, eyebrows, moustache, mouth on the portrait. Part of the uncirculated lustre is preserved.





Very Fine (VF):

Visible signs of wear from usage, but no serious edge dings. 75-65% of the above minor details are still visible. The high points in the corners of letters and numbers have started to round out. As a rule, in the portraits of Greek coins individual head hairs still be seen, but moustaches and eyebrows have started to wear smooth.





Fine (F):

Of the above minor details only 50% is still visible. The points of the lettering are badly damaged or have worn smooth to the point of disappearing. The hair lines and the crown decorations have started to disappear. Unless the coin has been previously cleaned, it gives a lackluster and dirty impression.





Very Good (VG):

The coin shows general significant wear and only 25% of the minor details is visible. Few hair and crown decoration details are visible; however the form of the main design remains discernible while the inscription and date are legible.





Good (G):

Only the main design's features are visible, while the inscription and date can be read with some effort.




Anatomy of a Coin
The coin sides depicted in the images below illustrate the different parts of a coin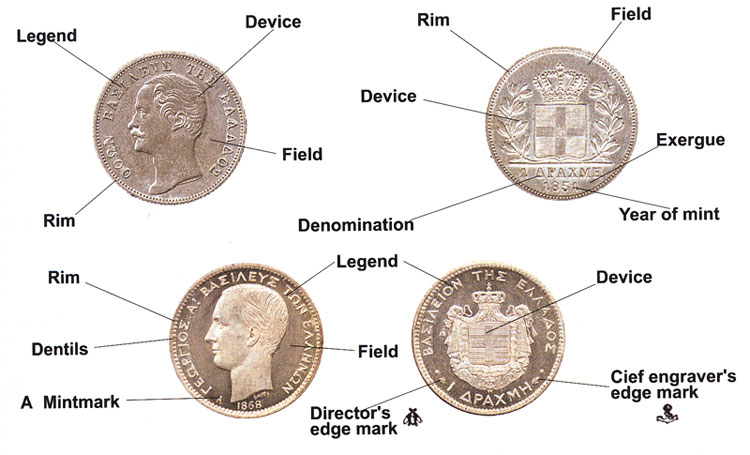 Device: The main them if relief that occupies the central and largest part of each side. There are various device themes (portraits, national emblems, archaic coin designs ect.)
Field: The coin's surface that is smooth and free from lettering and designs, also known as the background of the device.
Rim: The raised edge of both sides of the coin. It helps protect the upper parts of the device's relief from wear. On the interior, the rim is often accompanied by a decorative pattern consisting of small raised pearl-like features.
Legend (Peripheral Inscription): Generally the full name of the issuing state or the name of the depicted ruler. It is engraved in relief of the filed of the obverse or the reverse, on the inside of the rim and its possible decorative pattern. It must not e confused with the edge (relief or incuse) inscription when and where the latter exists.
Year or mining: Four – digit number (without the addition of a thousands separator) sometimes written on the reverse and some times underneath obverse's device.
Denomination: It is usually written on the coin's reverse.
Exergue: Circular portion defined by a horizontal line beneath the device and the corresponding arc of the coin's rim. This are usually features the denomination or the year of minting. In the case of Modern Greek coins. The exergue does not appear very often with a clearly defined outline.
Mintmarks: Very small representations or lettering indentifying the Mint where the minting took place.
Engraver's: (Chief Engraver's Director's etc) marks ( usually called edge marks): Symbols similar to mintmarks indentifying individuals related to the engraving and minting of a coin.