King Paul

1947 - 1965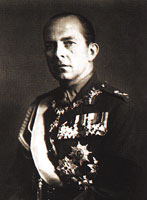 Paul, King of the Hellenes (December 14, 1901 - March 6, 1964), was King of Greece from 1947 to 1964. He succeeded his brother, George II, as king during a civil war between Greek Communists and supporters of the monarchy.
Paul was born in Athens, and was trained as a naval officer.
From 1917 to 1920, Paul lived in exile with his father, Constantine I. From 1923 to 1935 and from 1941 to 1946, he lived in exile again, this time with his brother, George II.
During most of World War II, when Greece was under German occupation, Paul was with the Greek government-in-exile in London and Cairo. From Cairo, he broadcast messages to the Greek people.
Year
Value
Mint
Quantity
Face View
Back View
Comments
1954
15.000.000
Bern
5 Lepta
Engraver:
V. Falireas
Year
Value
Mint
Quantity
Face View
Back View
Comments
1954
48.000.000
Bern
10 Lepta
Engraver:
V. Falireas
1959
20.000.000
Bern
10 Lepta
Year
Value
Mint
Quantity
Face View
Back View
Comments
1954
24.000.000
Bern
20 Lepta
Engraver:
V. Falireas
1959
20.000.000
Bern
20 Lepta
Year
Value
Mint
Quantity
Face View
Back View
Comments
1954
37.000.000
Paris
50 Lepta
Engraver:
V. Falireas
1957
5.100.000
Paris
50 Lepta
1959
10.100.000
Bern
50 Lepta
1962
20.500.000
Paris
50 Lepta
1964
20.000.000
Bern
50 Lepta
Year
Value
Mint
Quantity
Face View
Back View
Comments
1954
24.000.000
Paris
1 Drachma
Engraver:
V. Falireas
1957
8.100.000
Paris
1 Drachma
1959
10.300.000
Bern
1 Drachma
1962
20.100.000
Paris
1 Drachma
Year
Value
Mint
Quantity
Face View
Back View
Comments
1954
12.600.000
Paris
2 Drachmas
Engraver:
V. Falireas
1957
10.100.000
Paris
2 Drachmas
1959
5.000.000
Bern
2 Drachmas
1962
10.100.000
Paris
2 Drachmas
Year
Value
Mint
Quantity
Face View
Back View
Comments
1954
21.000.000
Paris
5 Drachmas
Engraver:
V. Falireas
Year
Value
Mint
Quantity
Face View
Back View
Comments
1959
11.000.000
Bern
10 Drachmas
Engraver:
V. Falireas
Year
Value
Mint
Quantity
Face View
Back View
Comments
1960
20.000.000
London
20 Drachmas

Engraver:
V. Falireas

Metal:
Silver
Year
Value
Mint
Quantity
Face View
Back View
Comments
1963
3.000.000
Paris
30 Drachmas

Engraver:
V. Falireas

Metal:
Silver