Third Hellenic Republic

1974 - 2001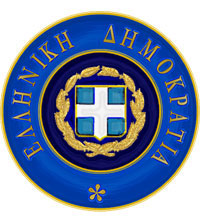 The current Third Hellenic Republic was declared in 1974 during the period of metapolitefsi, after the end of the Regime of the Colonels which had controlled Greece since the coup d'etat of 21 April 1967.
The Junta had already held a staged plebiscite to abolish the monarchy on 29 July 1973, and passed a new Constitution which established a presidential republic (with junta ringleader Georgios Papadopoulos as President). This short-lived attempt at controlled democratization was ended by Brigadier Dimitrios Ioannides' overthrow of Papadopoulos in November 1973. The Republic was maintained, but was nothing more than a façade for the military regime.
After the fall of the regime and the return to civilian rule in August 1974 however, the legal and constitutional acts of the junta were deemed invalid, and a new plebiscite was held on December 13, 1974, which finally abolished the monarchy. A new Constitution, promulgated on 11 June 1975, declared Greece a presidential parliamentary democracy (or republic – the Greek can be translated both ways). This constitution, revised in 1985 and 2001, is still in force today.
Year
Value
Mint
Quantity
Face View
Back View
Comments
1976
2.790.000
Athens
10 Lepta

Engraver:
T. Papayannis
L. Orfanos

1978
797.000
Athens
10 Lepta
Year
Value
Mint
Quantity
Face View
Back View
Comments
1976
2.514.000
Athens
20 Lepta

Engraver:
T. Papayannis
L. Orfanos

1978
803.000
Athens
20 Lepta
Year
Value
Mint
Quantity
Face View
Back View
Comments
1976
32.311.000
Athens
50 Lepta

Engraver:
N. Perantinos

1978
13.348.000
Athens
50 Lepta
1980
7.182.000
Athens
50 Lepta
1982
3.365.000
Athens
50 Lepta
1984
1.207.000
Athens
50 Lepta
1986
399.000
Athens
50 Lepta
Year
Value
Mint
Quantity
Face View
Back View
Comments
1976
55.588.000
Athens
1 Drachma

Type: I
Engraver:
N. Perantinos
L. Orfanos

1978
47.879.000
Athens
1 Drachma
1980
53.003.000
Athens
1 Drachma
1982
54.286.000
Athens
1 Drachma
1984
66.661.000
Athens
1 Drachma
1986
45.956.000
Athens
1 Drachma
Year
Value
Mint
Quantity
Face View
Back View
Comments
1988
69.170.000
Athens
1 Drachma

Type: II
Engraver:
K. Kazakos

1990
36.170.000
Athens
1 Drachma
1992
5.095.000
Athens
1 Drachma
1994
351.000
Athens
1 Drachma
1998
543.000
Athens
1 Drachma
2000
1.203.000
Athens
1 Drachma
Year
Value
Mint
Quantity
Face View
Back View
Comments
1976
48.516.000
Athens
2 Drachmas

Type: I
Engraver:
N. Perantinos
L. Orfanos

1978
44.852.000
Athens
2 Drachmas
1980
45.955.000
Athens
2 Drachmas
1982
64.216.000
Athens
2 Drachmas
1984
66.661.000
Athens
2 Drachmas
1986
41.218.000
Athens
2 Drachmas
Year
Value
Mint
Quantity
Face View
Back View
Comments
1988
56.531.000
Athens
2 Drachmas

Type: II
Engraver:
K. Kazakos

1990
45.729.000
Athens
2 Drachmas
1992
2.987.000
Athens
2 Drachmas
1994
254.000
Athens
2 Drachmas
1998
499.000
Athens
2 Drachmas
2000
1.292.000
Athens
2 Drachmas
Year
Value
Mint
Quantity
Face View
Back View
Comments
1976
50.615.000
Athens
5 Drachmas

Engraver:
T. Papayannis

1978
34.747.000
Athens
5 Drachmas
1980
33.701.000
Athens
5 Drachmas
1982
42.647.000
Athens
5 Drachmas
1984
57.401.000
Athens
5 Drachmas
1986
47.316.000
Athens
5 Drachmas
1988
32.728.000
Athens
5 Drachmas
1990
60.624.000
Athens
5 Drachmas
1992
21.104.000
Athens
5 Drachmas
1994
18.734.000
Athens
5 Drachmas
1998
17.760.000
Athens
5 Drachmas
2000
4.451.000
Athens
5 Drachmas
Year
Value
Mint
Quantity
Face View
Back View
Comments
1976
44.176.000
Athens
10 Drachmas

Engraver:
T. Papayannis
L. Orfanos

1978
31.185.000
Athens
10 Drachmas
1980
18.298.000
Athens
10 Drachmas
1982
33.539.000
Athens
10 Drachmas
1984
48.851.000
Athens
10 Drachmas
1986
46.999.000
Athens
10 Drachmas
1988
44.525.000
Athens
10 Drachmas
1990
59.533.000
Athens
10 Drachmas
1992
16.819.000
Athens
10 Drachmas
1994
59.250.000
Athens
10 Drachmas
1998
33.604.000
Athens
10 Drachmas
2000
17.795.000
Athens
10 Drachmas
Year
Value
Mint
Quantity
Face View
Back View
Comments
1976
32.348.000
Athens
20 Drachmas

Type: I
Engraver:
T. Papayannis
L. Orfanos

1978
21.053.000
Athens
20 Drachmas
1980
17.562.000
Athens
20 Drachmas
1982
24.299.000
Athens
20 Drachmas
1984
30.140.000
Athens
20 Drachmas
1986
17.404.000
Athens
20 Drachmas
1988
64.287.000
Athens
20 Drachmas
Year
Value
Mint
Quantity
Face View
Back View
Comments
1990
60.299.000
Athens
20 Drachmas

Type: II
Engraver:
K. Kazakos

1992
18.645.000
Athens
20 Drachmas
1994
27.640.000
Athens
20 Drachmas
1998
26.419.000
Athens
20 Drachmas
2000
17.048.000
Athens
20 Drachmas
Year
Value
Mint
Quantity
Face View
Back View
Comments
1980
32.251.000
Athens
20 Drachmas

Type: I
Engraver:
V. Sampatakos

1982
18.899.000
Athens
20 Drachmas
1984
16.842.000
Athens
20 Drachmas
Year
Value
Mint
Quantity
Face View
Back View
Comments
1986
17.404.000
Athens
50 Drachmas

Type: II
Engraver:
K. Kazakos

1988
64.287.000
Athens
50 Drachmas
1990
60.299.000
Athens
50 Drachmas
1992
18.645.000
Athens
50 Drachmas
1994
12.643.000
Athens
50 Drachmas
1998
21.419.000
Athens
50 Drachmas
2000
17.048.000
Athens
50 Drachmas
150th Anniversary of the Greek Constitution
Year
Value
Mint
Quantity
Face View
Back View
Comments
1994
7.500.000
Athens
50 Drachmas

Kallergis

Engraver:
V. Sampatakos
M. Antonatou

1994
7.500.000
Athens
50 Drachmas

Makrigiannis

Engraver:
N. Nikolaou
M. Antonatou
Year of Rigas Feraios and Dionysios Solomos
Year
Value
Mint
Quantity
Face View
Back View
Comments
1998
2.500.000
Athens
50 Drachmas

Feraios

Engraver:
G. Stamatopoulos

1998
2.500.000
Athens
50 Drachmas

Solomos

Engraver:
G. Stamatopoulos
Year
Value
Mint
Quantity
Face View
Back View
Comments
1990
949.000
Athens
100 Drachmas

Engraver:
V. Sampatakos

1992
129.985.000
Athens
100 Drachmas
1994
133.670.000
Athens
100 Drachmas
1998
6.985.000
Athens
100 Drachmas
2000
17.563.000
Athens
100 Drachmas
6th World Track Championship
Year
Value
Mint
Quantity
Face View
Back View
Comments
1997
5.000.000
Athens
100 Drachmas

Engraver:
G. Stamatopoulos
13th World Basketball Championship
Year
Value
Mint
Quantity
Face View
Back View
Comments
1998
5.000.000
Athens
100 Drachmas

Engraver:
G. Stamatopoulos
Greco-Roman Wrestling World Championship
Year
Value
Mint
Quantity
Face View
Back View
Comments
1999
5.000.000
Athens
100 Drachmas

Engraver:
G. Stamatopoulos
World Weightlifting Championship
Year
Value
Mint
Quantity
Face View
Back View
Comments
1999
5.000.000
Athens
100 Drachmas

Engraver:
G. Stamatopoulos
Year
Value
Mint
Quantity
Face View
Back View
Comments
2000
4.000.000
Athens
500 Drachmas

The Stadium
Engraver:
T. Papagiannis
P. Gravvalos

2000
4.000.000
Athens
500 Drachmas

The Olympic Lighting Ceremony
Engraver:
K. Kazakos
P. Gravvalos

2000
4.000.000
Athens
500 Drachmas

The Olympic Winner Diagoras
Engraver:
T. Papagiannis
P. Gravvalos

2000
4.000.000
Athens
500 Drachmas

Pierre de Coubertin - Demetrius Vikelas
Engraver:
K. Kazakos
P. Gravvalos

2000
4.000.000
Athens
500 Drachmas

The Olympic Winner Spyros Louis
Engraver:
K. Kazakos
P. Gravvalos

2000
4.000.000
Athens
500 Drachmas

The 1896 Medal
Engraver:
G. Stamatopoulos
P. Gravvalos